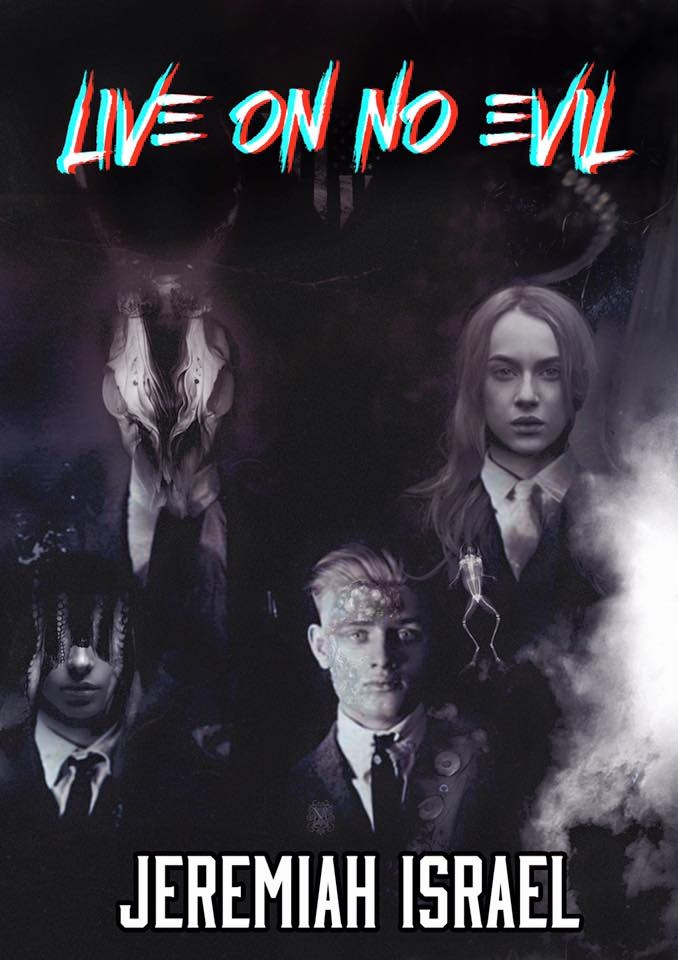 Live On No Evil is coming to Perpetual Motion Machine Publishing July 26, 2016.
I'm excited to the point of ridiculous so instead of communicating that through as many obscenities as I can fit into one sentence, I'll instead tell you why this book means so much to me.
This novel started out as a way of venting my frustrations with our modern slave culture while working as a Target employee. By the end it evolved into an attack on the god of the Bible and all of the inherent evil I have personally experienced through religion and the disease of thought that is Christianity.
When I began, I had no plans for what the book would become. One of the things I shy away from when writing is creating outlines. Nothing of this book was edited until each of the four handwritten notebooks it took to finish were completed. The Moleskins I wrote them in were holy. No mistakes were made because every stroke of the pen, intentional or not, was destined to be there. That's how seriously I treated these books. I was creating gods and demons and they were real because I had allowed them to be. Not only in this book, but manifesting themselves in my own life as well. Truth didn't matter. All that mattered was that I believed and the story would find itself. The gods would show me who they were. The demons would make themselves known. The book already existed, I just needed to physically add it to this plane of existence.
That's exactly what happened and that's exactly what is still happening. These gods started out as The Neon Three. I then realized that there was in fact six of them and that these three were only half of The High Six. The further I wrote, the more I realized that these entities already existed in my previously unpublished book Mammoth, I just didn't know it yet.
I made a divination deck that involved the gods of The High Six, The Neon Three included, and began to use them to speak to me. Every color I see, every number sequence, every look, word, tooth, eye and nail, everything is The High Six and their attempt to communicate.
I actually believe this is true because I choose to. Why the fuck not? I think God and the devil are both evil. So why not create my own gods? My own devils? Fuck it. I've known I was going to hell since I was three years old and couldn't keep my eyes closed during prayer. So until I get there, all because I have rejected Jesus Christ from my heart because God is most definitely not good, I'll keep writing about my gods and hope that maybe one day they do become real and really do save us from the nightmares of both heaven and hell.
Sin-seriously,
Jeremiah Israel
PS: I AM SO FUCKING EXCITED FOR THIS GODDAMN BOOK!!!!!!
Live On No Evil is a spiritual horror novel about aliens, demons and an extra dimensional god entity named Sahasa that has come to earth to provide human beings with a third option between heaven and hell.
Backpack is an eight year old boy who has found his only friend in a mysterious alien entity named Blue. After failing at saving the live action role playing obsessed Forest from murder at the hands of deceptive demons, Backpack must save the notorious 'Pet Threat', Spectrum City's animal serial killer, from a similar fate. In order to complete his induction into the loyalty of Sahasa, Backpack must find the one who will defeat the Library Labyrinth to stop an alien attack that will destroy Spectrum City.
Live On No Evil JULY2016!!!!!!
Oh and shit, check out the PMMP website and buy a book for Sahasa sake!!!!!!