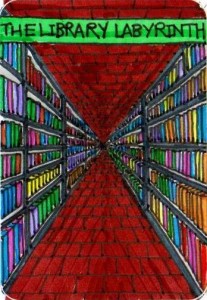 The following is an excerpt from Book 4 of LIVEONNOEVIL entitled Master Reset:
Arms put his palms together around the neck of the bottle and pulled it from his chest without sound or hint of pain. "So," said Arms as he set the bottle inside an open wooden chest, "you've met our Disloyal Games." He laughed again until seeing Gordo's look of bewilderment. "I'm sorry," he said getting his giggle under control. "It's just…of all of us, you meet him first. It's funny. Good to see Sahasa hasn't lost their sense of humor."
Gordo tried to smile at that, but couldn't. The bottle had cut through Arms' cloak in only a crescent and Gordo had yet to see blood. Arms pulled out a dustpan and cleaned the broken bits from the ground.
"I'm sure you have questions but let's save those for after you meet the rest of the group. They're all going to be real excited to see that you've arrived. It's been quite a while since we've had anyone new to the library. Oh and just to clarify, this is most definitely not a labyrinth. A labyrinth only has one path with a beginning and an end. There are no choices in a labyrinth. You don't get lost in a labyrinth, you get lost in a maze. Have you been lost yet?"
Gordo was transfixed on Loyal Arms' hands and their single fingers. "Umm…yes," he said. "I mean, I'm lost now."
"Lost but found. You're lucky Games brought you here. You'd have been taken prisoner if they thought you were in league with him. You aren't, I assume. Games is about as clever as he is see through."
"No, I'm not. He tried to kill me," said Gordo just after realizing it was exactly what he'd attempted on Arms.
"As you can see," said Arms lifting up his cloak to show his chest wound. As much as Gordo could tell, it was right over the heart, but where the skin tore there was only darkness and nothing coming from it. "Life is not so easily extinguished here. Death, in fact, is harder to attain than sanity is to retain. That'll be your concern soon enough though. No reason to concentrate on the 'could's or 'would's. What you should concentrate on though above anything else is how you're going to get out of here. Everyone thinks they know, but the only person that can know is you. Remember that and follow it above anything."
"But I don't even know where we are."
Arms laughed. "None of us do."